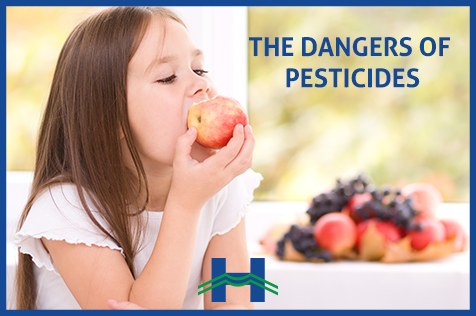 In parallel with the growth of the population worldwide, pesticides were manufactured to increase the production of fruits and vegetables. However, the widespread use of pesticides may cause unexpected effects on our health and environment both directly and indirectly. Maya Haddad, clinical dietitian at Mount Lebanon Hospital, explains important facts about pesticides.
Pesticides
are defined as a mixture of chemical substances intended to prevent, destroy, repel or mitigate pests. It's a
man-made and industrial substance
used to control insects, rodents, fungi, weeds and other invading life forms.
1- The effects of Pesticides on the Environment:
Pesticides vary depending on their impact on different organisms. On one hand,
selective pesticides
are toxic only to the targeted pests. They cause little or no harm to other organisms. On the other hand,
nonselective
pesticides can damage or even kill other life forms that are not harmful. Inappropriate use of pesticides can lead to the poisoning of individuals, domestic animals and natural life. Mismanagement of pesticides may cause the following: – Reduced control over dangerous pests – Injury of non-target plants and animals – Environmental damage – Disruption of the natural balance in the ecosystem
2- The effects of Pesticides on Health
Exposure to pesticides causes a number of health complications but may also lead to serious illness that can range from respiratory problems to malignant infections in some cases. Exposure to pesticides can vary from: 1. Breathing it 2. Eating or drinking it 3. Touching it 4. Rubbing it in the eyes
Pesticides may cause the following 5 major health problems
: 1. Dysfunction of the nervous system, neurotoxicity, degenerative diseases in the brain, damage to the brain, … 2. Deficiency in the reproductive system (infertility), premature birth, development defects in the fetus, … 3. Dysfunction of the immune system 4. Disruption of the Endocrine (Diabetes and obesity, hyper and hypothyroidism…) 5. Various forms of cancer The risk of being affected by pesticides and developing health problems varies from one individual to another. In fact, it depends on several factors such as: the exposure rate, the individual's gender & sensitivity as well as age. Needless to say, farmers are directly exposed to pesticide effects whereas; other individuals are indirectly exposed to lower levels of its residue through food and water consumption.
3-
The relationship between Pesticides and Age
. Children are more sensitive and affected by pesticides than adults since their brain, nervous systems and vital organs are in the process of development. Therefore, exposure to these toxic substances must be avoided especially during the first two to three years of a child's life. During this time, it is highly recommended to consume organic food.
4- The use of soap and detergent to clean organic products
According to FDA, in order to handle and eat fresh fruits and vegetables containing pesticides, the first step is to thoroughly wash hands with hot and soapy water for at least 20 seconds. Then, fruits and vegetables must be washed under running water in a strainer without soaking, since soaking in water can increase the risk of a potential cross-contamination.
FDA does not recommend washing fruits and
vegetables with soap and detergents
because they are as effective as water alone and their residues remains. In fact, no washing method is 100 % effective to get rid of all pesticide residues. Scrubbing the rind of some firm fruits and vegetables (e.g. orange, apple, melon, mango, carrot, cucumber…) with a brush under running water before cutting or peeling it is recommended since it removes bacteria from the outside before it spreads in when slicing. Soft fruits and vegetables such as grapes, strawberry… should be held under running water without scrubbing. Leafy vegetables (e.g. lettuce, cauliflower…) have outer green leaves that should be removed before washing. Heating vegetables can also help reduce pesticide residues.
5-
Organic fruits and vegetables
: Organic fruits and vegetables are the
produce of farming
where chemical fertilizers, pesticides and growth regulators are not used.
Only natural pesticides
are used and therefore they contain a very low percentage of chemical compounds. Organic fruits and vegetables are fresher and healthier because they contain more antioxidant than non-organic ones. The same recommendations sited above apply to wash them.
6- Level of pesticides between different kinds of fruits and vegetables
: It is recommended to buy organic products when the fruits and vegetables contain high levels of pesticides (see table below). If the level of pesticides is low, then it is not necessary to buy it from an organic label.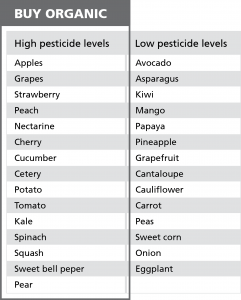 7- Reducing the exposure to pesticides
: Below are some ways to minimize the exposure to pesticides: – Buy organic and locally grown fruits and vegetables from a trusted source. – Wash fruits and vegetables before eating. – Distinguish between fruits and vegetables with higher levels and lower levels of pesticide residue. – Grow your own. – Use non-toxic methods for controlling insects. All fruits and vegetables provided to patients at Mount Lebanon Hospital are washed and prepared according to FDA infection control guidelines. For patients with high risks of infection or exposed to cancer treatments it is recommended to heat and boil the food. For patients with low immunity, especially pregnant women, it is recommended to
avoid
the consumption of fruits vegetables from an unknown source.
Maya Haddad
Clinical Dietician
Leave a reply