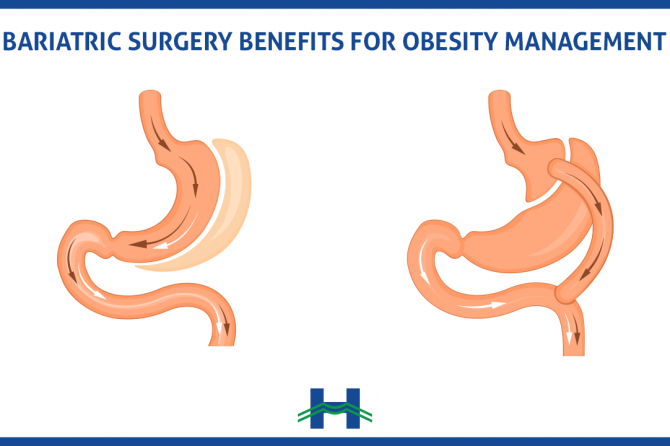 Bariatric surgery benefits for obesity managemen
What is obesity?
Obesity is a chronic illness defined as a body mass index (BMI*) ≥40 kg/m2. According to the World Health Organization (WHO), there are approximately 500 million obese adults and 42 million obese children under the age of five.
*BMI: Body Mass Index can give an approximation of total body fat and can be calculated on the following link
BMI= Weight (Kg) / Height (m) x Height (m)
There are several well-established health conditions linked to obesity, including:
– Type 2 diabetes,
– Heart disease,
– Stroke,
– Cancers (breast, colon, uterine)
– Osteoarthritis,
– Liver disease,
– Obstructive sleep apnea,
– Depression
– Infertility (men & women)
The risk of developing complications rises with increased obesity. Weight loss can reduce this risk or improve medical conditions, such as hypertension and diabetes. However, in many cases medication and lifestyle changes, in attempt to lose weight, may be ineffective for obese individuals.
How can we manage obesity?
Obesity can be managed in many ways:
Severe diet requires a solid will to stop eating unhealthy food and sweets, which are the main reason for obesity.
Healthy diet can help losing weight, but it does not help lose all the excess fat weight, therefore patients with BMI ≥40 kg/m2 should consider bariatric surgery.
Candidates for a bariatric surgical procedure include:
●Adults with a BMI ≥40 kg/m2 without any medical condition and/or comorbidity.
●Adults with a BMI of 35.0 to 39.9 kg/m2 with at least one serious comorbidity, including but not limited to:
•Type 2 diabetes.
•Obstructive sleep apnea (OSA).
•Hypertension.
•Hyperlipidemia.
•Obesity-hypoventilation syndrome (OHS).
•Nonalcoholic fatty liver disease (NAFLD).
•Nonalcoholic steatohepatitis (NASH).
•Gastroesophageal reflux disease.
•Asthma.
•Venous stasis disease.
•Debilitating arthritis.
•Impaired quality of life.
What is bariatric surgery?
Bariatric surgery goals include maximizing weight loss and maintaining or achieving nutritional health. These goals are accomplished while preventing micronutrient deficiencies and lean body mass loss.
Bypass procedures, such as Roux-en-Y gastric bypass (RYGB), Mini-gastric bypass and biliopancreatic diversion with duodenal switch (BPD/DS), are known to cause micronutrient malabsorption. These procedures divert the digestive tract bypassing the stomach directly to the intestine.
The sleeve gastrectomy (SG) procedure is a volume reduction of the stomach. It does not involve intestinal bypass but can still lead to certain nutritional deficits.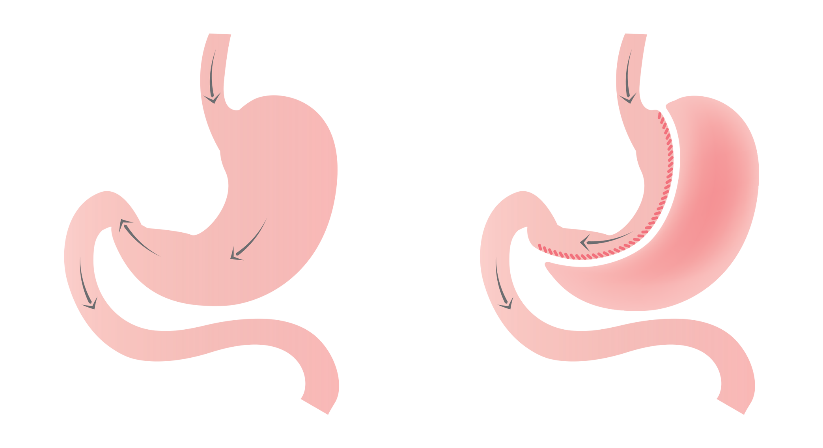 The surgeon decides which surgery is necessary based on the patient's case. Since obesity is a risk factor of malnutrition and micronutrient deficiencies, all patients should be screened prior to surgery.
What are the dietary and recovery recommendations post-surgery?
Any bariatric procedure can result in malnutrition if a proper diet is not followed. Preoperative deficiency can cause reduced dietary intake, malabsorption and inadequate supplementation (vitamins, nutrients…). Diet after bariatric surgery is based on a staged approach with emphasis on nutritional needs at each stage of healing and weight loss. All post-bariatric surgery patients will benefit from a well-planned dietary recovery plan that ensures proper healing and develops lifelong healthy eating habits.
Post-surgery diet structures
Patients undergoing an RYGB or SG procedure, are instructed to:
First two weeks after discharge from hospital: limit oral intake to clear liquids. Consume 64 ounces (1.89 liters) of clear liquids daily since dehydration is a common reason for readmission.
For the next two weeks: It is advised to consume a pureed diet (mashed and soft food) or full liquids.
For the next two months: a soft food diet (boiled vegetables, bananas….)
For the third postoperative month, patients can progress towards a regular diet.
Long-term dietary habits are determined by the patient's motivation, willingness, and ability to adhere to a healthy lifestyle and maintain a stable healthy weight post-surgery.
Within the first 30 days after bariatric surgery, vitamin and mineral supplementation consist of daily multivitamin intake for all patients.
Does Bariatric surgery affect gallstones?
Cholelithiasis (gallstones formation) is one of many late complications post bariatric surgery. This develops among 38% of patients within six months post-surgery, and up to 41% of such patients become symptomatic. This occurs as rapid weight loss can also contribute to the development of gallstones by increasing the bile (gallbladder fluid) lithogenicity.
This condition can be managed by performing a cholecystectomy (gallbladder surgical removal) during bariatric surgery or after. This decision is taken by the surgeon, based on the patient case. Surgeons recommend performing cholecystectomy during bariatric surgery if a patient has symptomatic gallstones preoperatively.
Can bariatric surgery help manage infertility?
Obesity can be associated with irregular ovulation or ovulation failure, as well as a reduced response to fertility treatment. In addition, women with regular menstruation who suffer from obesity will experience difficulty to conceive despite frequent and scheduled sexual intercourse. Obesity also reduces male fertility parameters.
Weight loss whether surgical or nonsurgical can improve fertility.
According to Uptodate.com in 2017, 15 to 44% infertility rates were observed among obese women. Postsurgical weight loss improves multiple hormonal changes related to polycystic ovary syndrome (PCOS) (insulin resistance, androgen levels). Hormonal changes may increase fertility and potential for conception; however it is important to note that bariatric surgery is not indicated as a primary infertility treatment among obese women.
In vitro fertilization (IVF) remains the safest, most successful and recommended treatment for infertility. It is important to note that multiple anatomic and physiologic changes occur after bariatric surgery that can affect medications absorption related to IVF cycle treatment.
To promote successful surgery and recovery with the accurate weight-loss results, it is recommended to delay pregnancy to reduce the potentially adverse effect of post bariatric nutritional deficiencies. To optimize long-term weight-loss it is recommended that women delay pregnancy for 12 to 24 months following bariatric surgery because this time frame is when women are actively losing the most body mass and stabilizing weight. This time frame will allow the patient to fully recover, have a healthy balanced lifestyle and balanced nutritional intake to promote healthy gestation.
Its is crucial for any patient prior to any treatment, medication or surgery, to communicate his medical history in detail with a specialist in order to understand the risks associated with any procedure and prescription. Complications ranging from reproductive issues to life threatening events depends on the honesty and accuracy of the patient's communication with his physician.
Dr. Raja Wakim
General & Obesity Surgery
Head of General Surgery Department at Mount Lebanon Hospital
Former President and Founder of the IFSO (International Federation for the Surgery of Obesity and Metabolic Disorders) – Lebanese Chapter.
Leave a reply