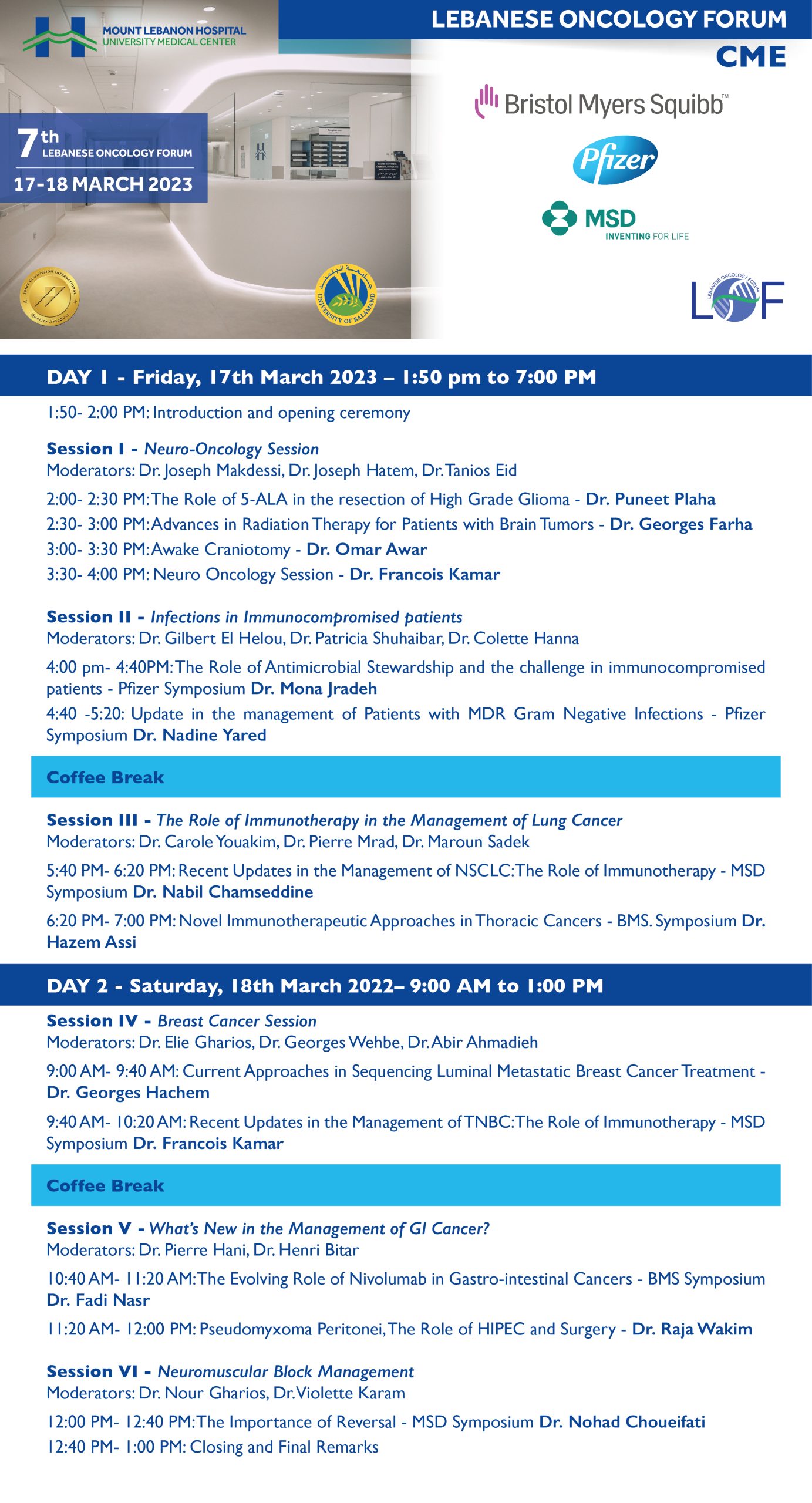 Dear Colleagues,
Mount Lebanon Hospital University Medical Center is pleased to invite you to the "7th Lebanese Oncology Forum" that will be held on March 17 & 18, 2023 at our Institution.
Friday March 17, 2023 @ 2:00PM
Saturday March 18, 2023 @ 9:00AM
Location MLHUMC Auditorium
Add to Calendar(.ics)
|
Add to Google Calendar
|
Add to Yahoo Calendar
This event will be held in a hybrid format, you are strongly encouraged to join us in the Auditorium for interactive sessions.
Kindly
REGISTER
today to receive the link to the Webinar version.
The forum's scientific committee has elaborated a comprehensive program consisting of interactive sessions and symposiums presented by renowned local and international speakers addressing the latest updates in Hematology & Oncology. The Lebanese Oncology Forum will address the multidisciplinary approach available in Cancer Care ranging from Radiation Oncology, Surgery, Internal medicine, Radiology and Hematology & Oncology.
Your contribution to the educational and scientific activities of this forum would be highly appreciated and acknowledged by the Medical Direction at Mount Lebanon Hospital University Medical Center and will continue to inspire us to provide the best quality of care to our patients.
We are confident you will give this invitation your utmost consideration and commitment.
VIEW PROGRAM
It is our sincere wish that the exchanges and discussions emanating from the organized symposia at the 7th Lebanese Oncology Forum will instill a strong sense of cooperation and teamwork among the various professionals. The mentioned discussions will revolve around the latest evidence-based topics, which are crucial to the treatment of Oncology patients.
Your active participation and contribution will fall in line with MLHUMC's pursuit of better health and well-being in our society.
For any additional enquiry, kindly contact +961 5 957 000 ext. 11440 or send an email to
[email protected]
Thank you for your support.
Best regards,
Elie Gharios, M.D.
President, Medical Director
Mount Lebanon Hospital
University Medical Center
Scientific committee
Dr. Elie Gharios, Dr. Nour Gharios, Dr. Francois Kamar, Dr. Fadi Farhat, Dr. Colette Hanna.
Organizing committee
Dr. Elie Gharios, Dr. Nazih Gharios, Dr. Nour Gharios, Dr. Francois Kamar, Dr. Gilbert El Helou, Mrs. Nayla Zahar, Mrs. Roula Khawand, Mrs. Tamara Gedeon, Mrs. Suzanne Nassar.